The Santi Glow is one of our most popular aesthetic treatments. 
An unusual combination of microdermabrasion and oxygen jet stream therapy, it's a multilayered facial that we adjust and refine on a case by case basis to meet your skin's unique needs. When you have a spa treatment if can be difficult to know exactly what's going on – and hopefully you're too relaxed to worry about it! While we always talk you through the different treatment elements, here we are looking at the five specific steps that make Santi Glow such a thorough and effective option.
Step 1 – Evaluation
followed by cleansing and toning: Our detailed pre-treatment consultations are about ascertaining the idiosyncrasies of your skin and your skincare habits so we can maximise benefit in the days and weeks that follow your visit. Once we have made some decisions about your skin type, skin issues and skin goals – we begin cleaning and toning, and repetition is key. Like an artist, we want a pristine canvas! 
Step 2 – Microdermabrasion:
It's a safe, effective and well-established cosmetic procedure. As fine crystals are swept across the skin, excess build up and dead skin cells are vacuumed away in a process known as abrasion – revealing the even, younger-looking layer beneath. Dermabrasion can reduce fine facial lines and wrinkles, minimise sun damage (including sun spots and pigmentation), unclog pores, reduce the appearance of minor scars and generally improve the texture of skin. We adjust the intensity to your needs and to your comfort, so rest assured, whether you are a newbie or an old-hand we will find the optimum exfoliation level for you.
Step 3 – Firming Mask: 
Once your skin is abraded it is especially receptive to topical treatment. We take this window of opportunity to apply a firming mask to both penetrate deeply and soothe. We have an in-house recipe including clay-based agents, natural oils and a unique vitamin infusion which will draw out impurities and refine the contours of your complexion. Many firming masks dubiously claim to sculpt and lift the face within a matter of minutes. What we can offer is visibly re-energised skin and the return of your natural glow.
Step 4 – Oxygen Therapy: 
Our oxygen treatment is a safe and proven hydration method that supplements natural processes. As our skin ages and is exposed to damaging environmental factors its ability to process available oxygen declines, resulting in dryness, dullness and diminished elasticity. Our pressurised, pulsating oxygen jet stream replenishes by infusing your skin with both oxygen and trace minerals, resulting in immediate hydration and encouraging a brighter, tighter appearance. Suitable for all ages and skin types, this is an oxygen treatment that yields visible results.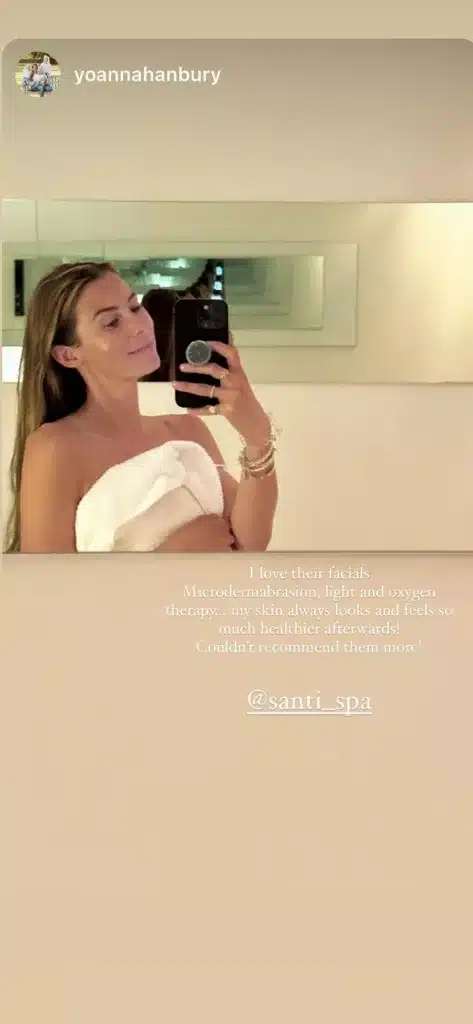 Step 5 – Aftercare: 
At Santi our aftercare is not an afterthought – we are constantly on the lookout for products which are not just treatment appropriate but will also meet your specific needs. Our facials are largely bespoke and we take great care and pride in fashioning a menu of cleansers, toners, masks, moisturisers and serums that will combine to optimise your time with us. To finish your treatment a particular serum may be selected and a moisturising agent which will address your concerns while also protecting your newly exposed and treated skin.
In combination both microdermabrasion and oxygen therapy are rendered more effective – skin that has been abraded is more receptive to subsequent treatments and oxygen therapy benefits greatly from an increased penetration of the skin. The oxygen jet stream is infused with a cocktail of vitamins and minerals, as well as retinol, all of which are more effective when delivered to a freshly exfoliated surface. If you're after a 'professional clean' for your skin – not to mention hydration, skin-firming and refining – the Santi Glow is an obvious choice.
The Santi Glow Facial Experience
Our Santi Glow Facial is not just a treatment; it's a transformational journey towards rejuvenation and radiance. Here's a glimpse into what makes this facial a favorite among VIPs and those who appreciate the finer aspects of skincare:
Customization
Each Santi Glow Facial is tailored to meet the unique needs and goals of the individual. Our expert aestheticians conduct a thorough analysis of the client's skin, ensuring a personalized approach that addresses specific concerns.
Cutting-Edge Technology
We leverage state-of-the-art technology and the latest advancements in skincare to provide a truly transformative experience. The facial incorporates innovative techniques and premium products that work harmoniously to deliver outstanding results.
Holistic Rejuvenation
Beyond targeting superficial issues, the Santi Glow Facial is designed to promote holistic skin health. It goes beyond mere aesthetics, aiming to enhance skin vitality, resilience, and long-term radiance.
Relaxation and Pampering
While efficacy is paramount, we also believe in the importance of relaxation. Clients can expect a serene and indulgent atmosphere during their Santi Glow Facial, making it a perfect escape from the hustle and bustle of London life.
Proven Results
Our facial has garnered a loyal following because it delivers tangible results. Clients consistently report smoother, more luminous skin, reduced signs of aging, and a newfound confidence in their appearance.