We understand that every client is different and needs an individual treatment plan. Too often we see a one-size-fits-all approach to skin peels, a blanket solution for all skin types, conditions and concerns. We take a more nuanced approach and carry an extensive array of peels.
We focus on ensuring our peel clients have a bespoke treatment plan that addresses their unique concerns – face, neck, hands or back – and to provide adjustable courses of treatment, minimising downtime during a busy week then taking a more robust approach when you have more time.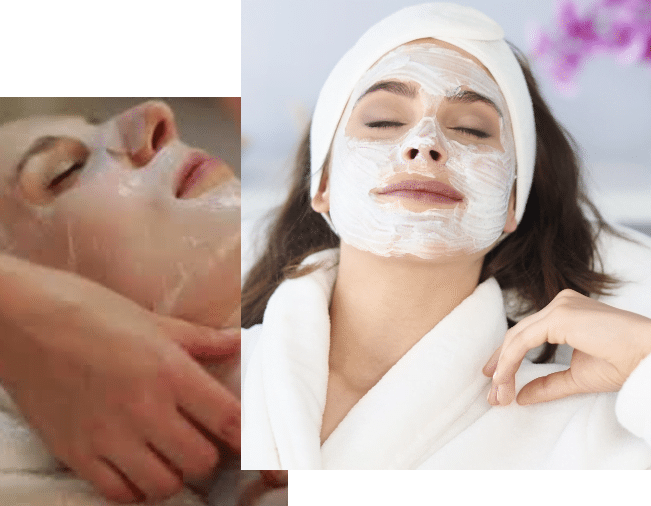 This restorative face and body treatment will help to reduce fine lines, wrinkles and acne as well as improving uneven pigmentation. It works by repairing the texture of your skin using a glycolic solution derived from sugar cane – which will buff away your dead skin cells, resulting in a smoother, more even and less wrinkled complexion.
The glycolic peel is a light chemical peel, non-irritating and yet highly effective as a smoothing, resurfacing agent. glycolic acid belongs to a group of active compounds commonly know as Alpha Hydroxy Acids (or AHAs). Naturally derived from cane sugar, its small molecule size allows it to reach deeply into skin tissue, targeting blackheads, oiliness and sun-related pigmentation. Its exfoliating action means its is ideal for removing stubborn dry skin and for generally improving skin contours.
Recommended: Our physicians will advise you as to the intensity and number of treatments required for your needs.
An innovative treatment derived from almonds, this peel penetrates the skin deeply. Anti-inflammatory properties combine with gentle exfoliation to make the mandelic peel an excellent option for acne and rosacea.
At Santi we offer different treatment strengths and work with you to maximise the skin benefits of mandelic acid, benefits which include enhanced skin stone, improved pigmentation, refined lines and pores and reduced acne/blackheads/inflammation. Mandelic acid is a trusted and effective agent in the fight against inflammation and premature ageing. Naturally sourced, well proven and gentle in its approach, the mandelic peel is an obvious addition to any healthy skin regimen.
Read more about our Mandelic Skin Peels
The oxygen facial is the ultimate restoring treatment for problematic skin. Santi's Oxy Pro Infusion will hydrate, remineralise and re-plump your skin to its natural vibrancy – delivering oxygen and liquid minerals further than other oxygen mist treatments
60 min – £100/ course of 5 – £400
The Santi Vitamin C Infusion will brighten your skin and give your complexion a noticeable boost as it targets sun-related photo-damage – resulting in firmer, brighter and healthier looking skin. Your skin will be drenched in pure vitamin C to encourage luminosity and bounce. Topical vitamin C can work to restore the elasticity lost with age, pollution and smoking
60 min – £125/ course of 5 – £
Our innovative microdermabrasion treatment uses an organic blend of ingredients to buff away dead skin cells, revealing softer, smoother and beautifully clear skin. Fine resurfacing grains are used to exfoliate the skin's top layer, rejuvenating and deep cleaning for spectacular results. Extractions are included…
60 min – £100/ course of 5 – £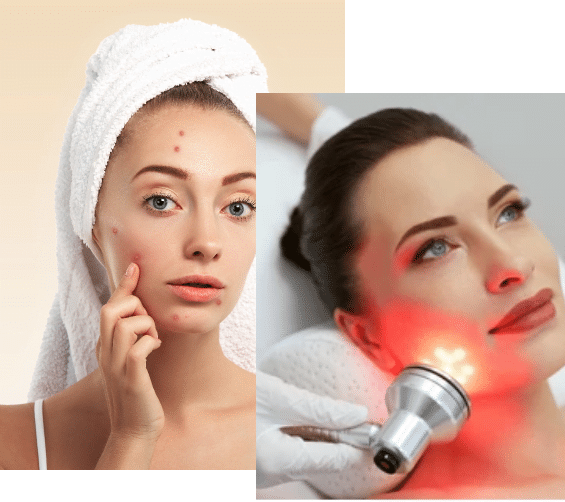 Laser and Light Therapy Facials
Massa sodales sodales finibus, felis ligula tempus lorem, eu porttitor ex lacus vel felis. Vivamus egestas scelerisque consectetur. Vestibulum faucibus enim urna, fermentum aliquet quam euismod non.
LED Light Therapy is a highly effective and natural treatment to help counteract the effects of ageing and environmental damage. It works by stimulating collagen and elastin to restore your skin back to its youthful appearance. LED Light Therapy is ideal if you want to soften fine lines and wrinkles and improve the overall softness and smoothness of your complexion. LED light therapy works by simulating and enhancing natural
30 min – £60/ course of 6 – £300
Acne Light Therapy is a powerful and non-invasive treatment designed to eradicate the bacteria that causes redness and inflammation. Safe, painless and highly effective, this is a light treatment that works with your body's natural processes, resulting in a clearer, healthier complexion. At Santi we tailor our light therapies to your individual skin concerns in a bespoke approach to acne and rosacea treatment. Blue light therapy works by
30 min – £60/ course of 6 – £300